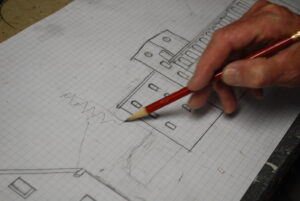 Paper making has been the economic backbone of Lee, Massachusetts, as well as other parts of the Western Massachusetts Berkshire area, for more than 200 years. At one time, there were 25 paper mills in this town.  The first successful paper from wood pulp happened here, as did many other firsts.  In 2008, Schweitzer Mauduit, the largest local employer of paper makers in town, closed the doors of its four local paper mills, and Mead Westvaco closed one, leaving only one mill running:  They put it up for sale.
It is still running: two employees bought the two mill buildings, keeping the Willow Mill, the oldest mill in town, running and employing 122 employees.  They renamed the business Onyx Specialty Papers.  We interviewed owners Pat Begrowicz and Chris Matthews about their decision to buy it and their plans for the business.  And recently, we interviewed them again.
This is an important story, a contemporary story.   We also interviewed more than 30 people related to paper making in the town, and we are working to be sure the digital video files are safe and well cared for, and available to the public.
Early on, the immediate goal of Paper Town Projects was to document paper making in all types of jobs within the paper mills.
The project had early support from Housatonic Heritage, Mass Humanities, the High Meadow Foundation, and individuals. Paper Town conducted more than 30 interviews with paper makers, townspeople, and others in businesses related to paper. PTP also went into schools in Lee, to include students in the process of gathering archival photos and hand paper making.
A pause in the project gave us time to consider its future, its purpose, and how the stories might be told and preserved…
Now, in 2022, the entire project will move to the Housatonic Heritage Oral History Center, where the digitally recorded interviews will be cared for and archived (with the University of Massachusetts), and where stewardship, research, and interviewing will continue.
In 2023-2024, the Berkshire Museum will curate a show with parts of interviews and related materials, including paper itself.
Several stories will be told, including those of the Schweitzer Mauduit plant, which closed in 2008, and the newer stories of Onyx Specialty Papers in South Lee, where two employees bought and now operate the mills once owned by Mead Westvaco.
Paper has a rich history in this region, where former R&D director for Schweitzer Mauduit Bill Selke said its manufacture represents "the height of the art and science of paper."
The story of hard work and ingenuity on the part of local mill owners and employees is an important part of the region's economic and cultural heritage. The move of this project to the well-established regional nonprofit, a partnership program of the National Park Service, Housatonic Heritage, will help to ensure the stories are well cared for and told.