Milan Central Station Shoah Memorial hosts tours to inaugurate new space
On June 15, 2022, visitors were given tours of the Shoah Memorial at the Central Station in Milan. I had been following its story, from a couple of angles, for years.
In 2007, I worked at the Center for Contemporary Jewish Documentation (CDEC), in Milan, under the auspices of a Fulbright grant.  I was doing research for a book, now finished but not yet published.  While there, I was fortunate to learn from Liliana Picciotto, Michele Sarfatti, Marina Hassan, and others.  During the last weeks of my sojourn in Milan, I met Marco Szulc, whom I interviewed about ideas for the Shoah Memorial, being developed by the Children of the Shoah, Figli della Shoah.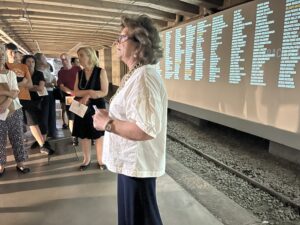 At the time, I was a little concerned that a new grand memorial might take funding and attention away from CDEC.   Then I met Guido Morpurgo, memorial architect in 2008, and wrote a very short op ed for the Boston Globe.  And in 2012, I visited again, this time I met Guido and Shoah Memorial Foundation President Roberto Jarach at the the construction site.
The site was vast, dark, and loud, and I could tell  that Guido's plans in this space could be effectively translated into an important visitor experience.  I visited again in 2014, and then did not go back until last week, June 15, 2022.  I knew that the CDEC board had decided to move the archive and library into the memorial space.
The only problem with that plan was the site in which CDEC was housed was also an important site of memory.  In 1938, when Racial Laws were promulgated in Italy,  Jewish children found their oasis and their school in this very building.  I felt a bit sad that this important site of memory might have less traffic.
On June 15, I was one of the visitors in a tour of the memorial.  I was moved to see the CDEC library and archive, which had been transported there – 32,000 books and hundreds of archival boxes – and to listen to Liliana speak at the wall of names, seen here.  The library here is beautiful, and the archive spacious.
Tanti auguri to all of the people who do this work so devotedly every day.