The Berkshire Eagle
Tortelli di zucca: A lesson in Italian regional cuisine
From Milan and Mantova, and back to Stockbridge


By Judith Monachina, Eagle correspondent
Jan 3, 2020
Of the 1,300 names for pasta shapes in the Italian language, most are associated with particular places. All from Umbria: Lumachelle, laianelle, squadrucetti …
This fact suggests long culinary distances between cities; in this case, between Milan and Mantova. Less than two hours apart by train, these cities became my classroom for a lesson on the endurance of regional cuisine.
It began in Milan. I invited my landlord and his wife to dinner. In the back of my mind lurked an admonition given by a since forgotten acquaintance: never make Italian food for an Italian. After a few menu ideas, dropped because of difficulty or lack of kitchen space, I settled on a hand-made (but not by me) pasta con zucca. These square pillows filled with fragrant, subtly nutmegged squash or pumpkin were found at a fresh pasta shop. I would make a simple butter sage sauce and pass freshly grated Parmesan cheese.
"Tortelli di zucca," Guido announced as he ate. "A specialty of Mantova. My grandmother lived in Mantova and we used to have it when we went to visit her," he remembered. A thirty-something, Guido traveled the world for his work, but he was a proud Milanese. A few weeks earlier, he and his wife Marilena had welcomed my husband and me to Milan with a meal of Risotto Milanese, the local specialty made with saffron.
"Where did you find pasta con zucca?" he asked. I told him about the shop. "Delicious," he said, and complimented my choice of sauce. "But," he added, "I do think it's a little sad that you can find pasta con zucca everywhere now."
And so, Guido initiated the lesson, but it was still vague, waiting for its completion.
As luck would have it, two weeks later I visited a friend in Mantova. A retired teacher of French and Italian, Anna Biasin Zaffanella lives in Stockbridge and each year spends time in Italy. Mantova is her late husband Luciano's home city, and though she grew up in the Veneto region, she has adopted this place. The young couple had moved to the Berkshires when General Electric recruited Luciano, then a young engineer with expertise in the transmission of ultra high voltage electricity.
Anna met me at the station, and whisked me around the city. We visited the 500-room Gonzaga palace and saw its Andrea Mantegna frescoes in the bridal chamber. Mantova was added to the UNESCO World Heritage site list in 2008. We walked through porticoed cobble streets to a little cafe . Once inside, she announced we would order a Mantovan specialty, which I had probably never had: tortelli di zucca.
As I ate the fragrant dish, I nodded. Yes, it was a rare treat. Did I dare tell her that I had eaten tortelli di zucca, in Milan? Well, eventually.
A few years later, back in Stockbridge, I told her. She laughed. This year, she invited me to make it with her on Christmas Eve. Family tradition meant a few grandchildren, now adults, might be helping out, and the dish would be served for dinner.
Meanwhile, some research. About the idea of a national cuisine: "Generally speaking, it's an artificial construct," said Darra Goldstein, Williams College professor emeritus, founder of Gastronomica, a scholarly food journal, and author of books on regional cooking. "Most cuisines are regional, but for political purposes, or purposes of marketing or consolidating a larger identity, national cuisines are created. Artusi Pellegrino's 1891 book ['The Kitchen and the Art of Eating Well'], was an important step in the creation of an ostensible national cuisine." That book came 20 years after final unification of Italy. In France, she said, a similar effort was made in the 19th century: "a codifying of haute cuisine that brought regional dishes into the cannon. Cookbooks also play a role in creating a national cuisine."
There were no cookbooks when I met Anna to make the filling as taught to her by her mother-in-law, Anna Marani Zaffanella. We did so ahead of time to make the holiday pasta making easier. Christmas Eve morning, grandson Christopher, who lives in Boston, showed up. It became clear it was not his first time.
We washed our hands and put on our grembiule (aprons), before heading to the finished basement, where the annual ritual is enacted.
Christopher sifted flour into a volcano shape, and the work began. We talked and kneaded, rolled, stuffed, cut and pinched. They didn't know about the 1,300 names, about which I had learned from Oretta Zanina De Vita's Encyclopedia of Pasta. It was fun to have something to teach them. To the already rich traditions, invasions and immigrations, the Angevins, Albanians Muslims, and others brought their pastas to Sicily, Puglia and the Piedmont. And women, there kneading and cutting, gave their edible sculptures names like farfalline (little butterflies), nastrini (little ribbons), galletti, (small roosters), tempestine (little storms). Machinery, Zanini de Vita said, inspired new names, like ruote (wheels), and rotelle (propellers). Pasta was not an everyday staple in the countryside, but rather reserved for feast days, until before WWII. Yet, we have 1,300 names.
TORTELLI DI ZUCCA
(Recipe courtesy of Anna Marani Zaffanella of Mantova)
For the filling: (75 minutes, includes baking the squash)
Ingredients:
Hubbard, similar squash or small green pumpkin, baked/roasted, quartered, flesh scraped out
Mostarda di Mantova or Mostarda di Cremona. 4 pieces of the fruit, not the liquid. (That might be pear, apricot, quince). Chopped very fine. If this product is difficult to find, improvisation may be in order, or convincing your favorite gourmet grocer to stock it.
10 Amaretti cookies (sugar brushed off) pulverized in blender
One egg
Nutmeg, about 1/2 teaspoon
1/2 cup grated Parmesan cheese
Salt and pepper to taste
Directions:
In a bowl, add egg and nutmeg to the squash; mix.
Stir in fruit
Blend in Amaretti, then Parmesan cheese, salt and pepper; stir well.
For the pasta: (about one hour)
Sift 2 cups all-purpose flour, with a bit of salt, into a volcano shape
Scoop out a crater, add 4 eggs. This may require some finagling as the eggs, may run out of the crater. Blend with your hands.
Some people add drops of water if more moisture is needed. Knead about 8 minutes.
"When it feels like a ball of dough," or the dough, when pushed in, pushes back; put into a wet kitchen towel, taking only the piece to begin with, about the size of a small child's fist.
Run through the rolling machine several times, each time folding in half, and moving from lower to higher (thinner) settings. They settled on number 8, the second to thinnest. Each dough is a little different. Experience is a guide.
Lay a strip, about 1 1/2 to 2 inches, on the table, sideways, and dot about 1/2 teaspoon of filling all along the strip, imagining that you will fold the pasta strip over the filling. Fold the strip in half, covering the filling with dough. Then, pick up the strip, one end in each hand, and gently bang it two or three times on the table.
Press the spaces between mounds of filling with your finger. Then, cut with pasta cutter where you marked.
You now have pasta squares, one side the fold, and along the other 3 sides, press closed with your fingers.
For the sauce:
Saut quarter pound of butter with fresh sage springs for about 15 minutes, on very low heat. Avoid burning.
Cook pasta in boiling water, about 5 minutes. Taste test one piece. Pour sage butter over tortelli. Pass grated cheese. Serves 6
_______________________________________________________________________________
Food & Travel
The Boston Globe
In Lenox, Chocolate Springs is a sweet oasis
By Judith Monachina, Globe Correspondent / February 11, 2009
LENOX – In Joshua Needleman's Chocolate Springs Cafe here, glass cases are filled with artisan chocolates named Sweet Fire, Venus Rum, and Raspberry Love. Some, like Paris Tea, are colorfully decorated. If you sit down in the 30-seat cafe and order a cup of hot chocolate, it arrives topped with freshly whipped cream, in a stoneware mug set on a small Japanese lacquer tray.
"I wanted to make great chocolate where you would come and meet great people," says Needleman, 36, who spent three years working in New York's famed La Maison du Chocolat. He also wanted to create an oasis. Maize and burgundy walls are dressed with luminous landscapes. The room has a piano (guests occasionally play; on Saturday afternoons, a regular performer mixes jazz, classical, and new compositions). Above the piano, a painting shows clouds turning to shells, forming a graceful arc, and falling into the sea.
There are Asian accents all over the shop and in the confections. Handcrafted dark and milk chocolates, truffles, mousses, and pastries are the specialties. Needleman makes his own ice cream. Almost everything at Chocolate Springs is either entirely chocolate or has a serious chocolate element, though a few treats – scones and biscotti, for instance – go well with hot chocolate or espresso. Unique items are the chocolates with infusions. Chai This, for example, combines chai, ginger, cardamom, cloves, and cinnamon mixed in a dark ganache, covered with dark chocolate. Green Tea Bonsai is a Japanese matcha tea infusion coated in dark chocolate and stenciled with colorful bonsai trees.
In fact, Chocolate Springs Cafe may be more New Age than Berkshire Gilded Age. In his hometown of Lebanon Springs, N.Y., a few miles away, Needleman was raised near mineral springs. The health benefits of chocolate reminded him of those associated with thermal springs, thought to heal everything from circulation to digestion. So he used the word springs in his cafe name. In his hometown, Shuji's Japanese restaurant was a favorite Needleman family spot. At 16, he worked there as a dishwasher, and then moved to making appetizers, tempura, and teriyaki. Shuji's set him on his culinary course, and taught him his aesthetics. "It was my second education," he says.
He received a third education at the Culinary Institute of America, and afterward made pastries and desserts at Wheatleigh and Cranwell, both Lenox Gilded Age cottages. Later in Paris, he worked in a pastry shop and at a restaurant. "I liked the precision of chocolate," he says.
Needleman was living in New York on 9/11. "I decided life is too short," he says. His goal: "Do what you want to do."
He opened his shop in 2003. At Chocolate Springs Cafe, he can make fancy chocolates, but also dabble in chili chocolate, and dip Swedish fish in chocolate. A chocolate model for a new World Trade Center sits atop a high shelf. His chocolates appear at special events, like Shakespeare & Company's chocolate-and-champagne "Love Lounge" taking place after Saturday's performance of "Bad Dates." Needleman has co-presented lectures with a Williams College chemistry professor about the properties and benefits of chocolate. In 2006, Saveur magazine called Needleman one of the 10 best chocolate makers in the country.
Since the cafe has played host to many first dates, for Valentine's Day, Needleman has created rose tea bonbons with romantically evocative swirls and pink hearts on dark chocolate.
But the chocolate maker thinks that no one needs a date to enjoy chocolate. It gives that much pleasure.
Chocolate Springs Cafe, 55 Pittsfield Lenox Road (Route 7), 413-637-9820, www.chocolatesprings.com. Chocolates are available at Formaggio Kitchen, 244 Huron Ave., Cambridge, 617-354-4750.
________________________________________________________________________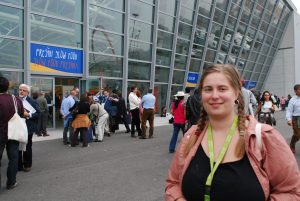 Doing it the old-fashioned way
Slow Food movement picks up steam
http://www.boston.com/lifestyle/food/articles/2008/11/05/doing_it_the_old_fashioned_way?mode=PF 
By Judith Monachina, Globe Correspondent | November 5, 2008
TURIN, Italy – Early in the morning at the Salone del Gusto, the large indoor market here, it's so quiet that you can hear the sound of carts rolling over stone floors.
Next door, the Terra Madre conference is in full swing. This meeting of the Slow Food movement, with 7,000 farmers, chefs, and educators, includes Berkshire resident Sarah Dibben, chef of Stagecoach Tavern in Sheffield. She's here because she likes to do things the old-fashioned way – Slow Food incorporates artisanal growing and cooking practices – and is looking for ideas. "I want to see ways to preserve food throughout the year," she says. "I practice pickling and canning, drying and freezing, but freezing costs money."
And so Dibben moves through the conference going to classes, workshops, and tastings. She's accompanied by her husband, Aaron, wine buyer for the restaurant, and their 15-month-old son, Emory. Between sessions, she stops by Salone del Gusto to see hundreds of vendors who also practice Slow Food in many ways, including one who makes huge hunks of headcheese from all the bits and pieces on the pig.
A workshop on spices is one of the first she attends. She learns that saffron was cultivated in Italy during Roman times but was lost during the Middle Ages. It was still grown in Spain, but only Inquisitors could take the precious spice outside the country. It has been used as an aphrodisiac, a dye, and for other purposes. Today, it's served in a sweetened tea in clear glasses. The 50 chefs in attendance are asked to identify the other spices in the drink, which turn out to be nutmeg, cinnamon, and clove (with honey and sugar). They also sample a traditional Mantova dessert called "snow in the glass," once literally a spoonful of snow with warm spiced wine and almonds. The version here uses vanilla ice cream.
Dibben's trip was paid for in part by a raffle at her restaurant, and the winner will get a dinner that she'll cook at his home. She decides that snow in the glass will be on the menu.
At the Salone one day, she finds strawberry gelato. She meets a farmer who makes gelato from the milk of his cows, with strawberries from his fields. "I thought, 'That's exceptionally cool,' " she says. She wonders what she's missing at the Salone because she doesn't speak Italian. This time, there's an interpreter around.
Dibben grew up in a suburb of Kansas City, Kan., and worked as a pastry chef at Lidia's in Kansas City, Mo., owned by TV personality and author Lidia Bastianich. Dibben's grandfather was raised on a farm, and she remembers him talking about burying food under hay for the winter. He also peeled apples and dried them on a warm tin roof.
She wanted to become a wedding cake baker. She held a few restaurant jobs, eventually working her way into pastry, and earned a degree in restaurant management at the local community college. Lidia's pastry chef, Cody Hogan, would bring her to the farmers' market at dawn to buy raspberries for the day's dessert. He taught her to be fastidious in the kitchen. "Nothing was wasted," she says. "We made sorbets from lemons, and the zest and pith were made into candy. We used the internal core of the pineapple; we put it into fruitcakes."
When she and Aaron decided to move to the Berkshires, she began to shift away from pastries. Both worked at the Old Inn on the Green in New Marlborough, and then at John Andrews in Egremont. They also spent a couple of years in Portland, Ore.
At the conference, Slow Food founder Carlo Petrini is greeting Americans enthusiastically, telling them the movement needs them "to establish a great new monumental pact with the world. We need America," he says.
Urban farmers from the United States talk about community farms and gardens. Representatives from Green Mountain College in Poultney, Vt., tell about a farm on campus. In the middle of a session on local sustainability, Dibben leaves the room. Standing in the hallway, she says she's had an epiphany. She wants to learn more about the US farm bill. "I think I have to get involved with farm policy," she says.
Slow Food has been criticized as elite. But Erika Lesser, executive director of Slow Food USA, is not apologetic. "We are determined to prove that it can work for the masses," she says.
In the end, Dibben doesn't learn much about preservation, but she has ideas to take home. One is a mission statement on her menu and a conversation with staff about their food. For instance, what might look like an ordinary radish, she says, "is not just a radish. It's a French breakfast radish – and it's beautiful."
On the bus every day, traveling to the conference with other attendees, she and the farmers have conversations about this. This informal network, in fact, may be the long-term benefit of the trip.
At dusk on the final day, buses arrive to take delegates to hotels and host families. The Dibbens are headed to Pinerolo, a small town to the south. Regrettably, except for the Salone, they didn't really get to see much of Turin.
© Copyright 2008 The New York Times Company